ALL ABOARD THE TRIP OF A LIFETIME!
Rib Adventure
An Action Packed Excursion
Looking for an outdoor adventure? The Westport Sea Safari Boat Tour is our action packed Rib Adventure taking in all the Westport Coast and Clew Bay has to offer. 
We will manoeuvre through and get views of the 365 Islands of Clew Bay all the while catching a glimpse of wildlife like Westport's Seal Colonies and beautiful sea birds, getting great views of the local muscle farms and salmon fisheries, drop off at Inis Gort Lighthouse and Island and get historic stories from your local captain. 
All this and more on an action packed high speed rib ride to remember. 
John Lennon Island
Bought by John Lennon in 1967 for £1,700, Doorinish Island was home to a small hippie commune set up by Sid Rawle in 1970.
After Lennon's death, Yoko Ono sold the island for £30,000 and donated the money to an Irish orphanage.
The island is now used as a grazing site for livestock.
Clew Bay Seals
Clew Bay is home to a colony of harbour seals, who are sometimes visible at lower tides resting on the uncovered rocks. The colony size is approximately 120, with the seals being most active during the summer months to bear offspring. A female seal is referred to as a cow, while a male is a bull.
Inishgort Lighthouse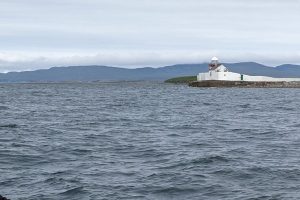 Inishgort island is home to one of Ireland's oldest lighthouses which was built in 1806. The tower is accompanied by a 2-storey lighthouse keeper dwelling, which was built in 1827. The light was converted to solar in 2000 and the buildings are maintained by the Commissioner of Irish Lights
Clew Bays 365 Islands!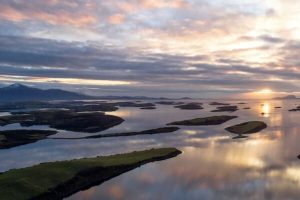 The 365 islands of Clew Bay were formed by the stream line movement of glacier icesheets several million years ago. These islands are drumlins which have been partially drowned by the rising sea level.
Drumlins are formed by the deposits of melting glacier ice sheets. These island are the most distinctive feature of Clew Bay.
Scott's Man Bonnet Island
This iconic shaped island stands out in the bay for its unique resemblance to a Scottish man's hat. Unfortunately ,due to years of harsh sea erosion, the island is nearly gone.
Inishraher Island
Inishraher, or more recently referred to as Maharishi Island of World Peace, is a a 30 acre island. It is a place where guests from all over the world can come to experience and create peace through their practice of Transcendental Meditation and its advanced programmes.
Aquatic & Bird Life
There is a wide variety of fish, shells, clams and cockles that can be found in the bay. Lobsters and the brown crab are commonly fished locally, and sold to venders around Europe.
The bay also houses a variety of birds: Arctic Terns, Seagulls, Geese, Ducks, Waders, Herons, Gulls, Cormorants, Snipes and many others.
Fish Farming in Clew Bay
There is an ever-growing aquaculture in Clew Bay, providing the opportunity for a range of fish farming. Mussel farming and salmon farming are the two most prominent activities that provide income for local fisheries.
Dolphins in Clew Bay
We occasionally get visited by some Dolphins, these beautiful aquatic mammals grace us with there presence and swim along side and play. 
It's a real treat and one that should be really enjoyed! 
Looking for more information on this action packet Boat Tour of the Westport Coast? Check out our FAQ Page here

"Massa amet, at dolor tellus pellentesque aenean in eget massa tincidunt habitasse volutpat adipiscing sed id sit auctor eu vivamus nulla."
"Cursus egestas nibh quis arcu ultricies morbi auctor ultrices at ut proin facilisi ipsum congue eu est fringilla auctor sem velit nibh egestas massa."
"Risus neque commodo sagittis aliquet ultrices vel feugiat pulvinar dis sed amet sed nec nunc ipsum urna ut adipiscing in at dapibus dui dictumst."